Looking for a flawless smile with no hassles of brackets and wires to carry forward with ?? 
Invisalign is what you" ll hear your Dentist in Delhi suggesting if you have aesthetics on your mind! 
Well with the advent of invisible braces, sustainability in terms of long-span treatment plans, now doesn't sound whimsy anymore. Whether you are a millennial parent or Gen Z, INVISALIGN is here for all. And so are we at Dr.Sahni"s Dental Clinic, with the best invisible braces in Delhi.
Table of Content
Feel free to skip ahead if one topic catches your eye: 
What is Invisalign?
How Does Invisalign Work For Different Dental issues?
How Long Does Invisalign Take?
Invisalign vs Braces: What's the Difference?
Pros & Cons of Invisalign
Takeaway     
What is Invisalign?            
Invisalign or "invisible braces" as commonly referred to, is a clinically controlled and scientifically proven orthodontic treatment. These clear alternatives to braces let you visualize and transform your new smile, without having to worry about what to expect next. Amongst other clear aligners, Invisalign is the best invisible braces in Delhi and other commercial cities of India. The treatment process is wrapped in 3 simple steps:
Your doctor takes a precise 3D digital scan of your teeth to customize a set of clear aligners for you. Each aligner is engineered to exert the right amount of force at the right time to align your teeth incrementally at all desired planes.
Your doctor then schedules a calendar for you to pick up the subsequent sets. Based on the degree of the perplexity of the case, the gap span ranges from 8-12 days to 6-8 weeks.
Finally, clear retainers are tailored to help you keep the aligned set of teeth in their final position and your "after photo" intact. 
 As simple as it may sound, it is even quicker when it comes to seeking results. As compared to conventional braces, the treatment time is less. You can even get to see your dream smile in a matter of weeks! 
How Does Invisalign Work?
Dentists in Delhi and worldwide recommend Invisalign as one of the best aligners. These discrete clear aligners are made of multilayered plastic material that fits snugly around the teeth. Patients undergo the treatment process under absolute guidance of an orthodontist. Invisalign is not meant to be sold to patients.
With advanced scanning provision, it allows the orthodontist to build a concrete evidence based treatment plan that enables the patient to track their smile progress in each appointment. So there's practically no room for guesswork as one can get consistent algorithms via the mapping software.
1. It begins to transform the smile, that too in incognito mode, from the very first sitting. At subsequent appointments, the clinician attends to all the questions & briefs their patient about the expectations they should have.
 2. The 'invisalign difference' is moving forward towards perfecting the smile one wants without feeling self-conscious about wearing braces.  The invisalign revolution has made 'train tracks' on teeth pretty much a thing of the past.
 3. The virtually invisible aligners are easy to remove while eating, so the usual routine stays uninterrupted, allowing one to maintain healthier gums and teeth; letting you do whatever and whenever you need to.
Ideal Candidate for Invisalign
Leveraging data from millions of patients, Invisalign is the innovation that fits your needs and lifestyle. If an individual is looking for a comfortable transition from the stage of malocclusion to perfect teeth alignment, Invisalign is the leading teeth straightening system. It is tailored to suit one's standard of living, be it at their teens, or adult age or so as littles; making it the surgeon's choice, for dentists in South Delhi and worldwide. 
Invisalign Teen has gained much popularity owing to the demands of teenage life. It gives them the confidence to smile and not sulk behind the bulky braces. Definitely being the right track for growing children to teens.
Invisalign for Adults is just the right path chosen to move forward. With malalignment, age related gum and bone changes results in early teeth mobility, carious teeth, bleeding gums and so on and so forth. Lack of availability and time constraints for this age group, makes treatment with braces a nightmare to consider. 
Invisalign First has been introduced especially for kids aged 6 to 10 years ( termed as phase I treatment ). Orthodontists can point out the need for early intervention, in order to intercept the starting stages of malocclusion. The main agenda being development of the maxillary/mandibular arch to accommodate space for the evolving dentition.
Initially, the main focus of the Invisalign system was to close small spaces and treat low to moderate crowding cases. However, pioneering research has allowed for the treatment of more complicated malalignments. Invisalign is currently one of the most frequently opted and affordable types of aligners.
2.  How Does Invisalign Work For Different Dental Issues?
The proprietary SmartForce technology of Invisalign delivers the result that the dentists in Delhi and all over the world rely on. 
The SmartForce® attachments make complex teeth movements possible without braces. They are like small tooth-colored handles fixed onto the teeth during the treatment, allowing aligners to exert a gent push-type force. Invisalign then fits tightly over them, making them invisible. However, these attachments are very case-specific and augment the chances of expecting favorable results.
OVERBITE: Upper front teeth overlap with lower front teeth. Too large an overbite is called a deep bite.
Correction – Invisalign rectifies it by proclination of the lower incisors and minimum intrusion of upper incisors.
UNDERBITE: Lower front teeth are in front of upper front teeth on closure.
Correction – Invisalign can fix some underbites by the intrusion of lower incisors and minimum proclination of upper incisors, but severe ones require additional surgery.
CROSSBITE: Upper teeth sit inside of lower teeth upon closure.
Correction – Invisalign can fix some types of crossbite by proclination of upper teeth and minimum intrusion of lower teeth.
GAP TEETH: Narrow or wide space between two or more teeth.
Correction – Invisalign can fix gaps in between teeth by intrusive forces.
OPEN BITE: Upper teeth do not touch lower ones upon closure.
Correction – Invisalign corrects it by extrusion of incisors without any alteration in the mandibular arch.
CROWDED TEETH: Teeth overlap because of lack of sufficient space in the jawbone.
Correction – Invisalign fixes anterior crowding by use of IPR (interproximal reduction) and proclination of incisors, in cases that do not require extraction. Posterior crowding is rectified by incorporating SmartForce attachments.
3. How Long Does Invisalign Take?
The duration of Invisalign treatment varies according to the complexity of the case. According to the severity of the case and the degree of the desired movement, weekly or biweekly changes of aligners can be made. The teeth require an adaptation period to adjust to the exerted force, so as to stabilize the changes and attain subsequent retention.
One needs to wear each aligner for 20 hours/ day for 14 days before changing to the next set.
While mild cases can take as little as 6 months, moderate to severe cases can be completed in a period of 13 to 22 months.
4. The Difference Between Invisalign and Braces
| | | |
| --- | --- | --- |
| Features | INVISALIGN    |   BRACES |
| Treats simple to complex cases | ☑ |       ☑ |
| Multilayered material for  predictable and well-controlled tooth movements | ☑ |   |
| Invisible | ☑ |   |
| Easily removable  | ☑ |   |
| No laceration and pain due to wearing off of wires or brackets | ☑ |   |
| Visible results at the end of each stage  | ☑ |   |
| Lesser appointment visits  | ☑ |   |
| Better satisfaction amongst teens while undergoing the treatment | ☑ |   |
| Better monitoring of compliance due to the feature of 'blue-dots' | ☑ |   |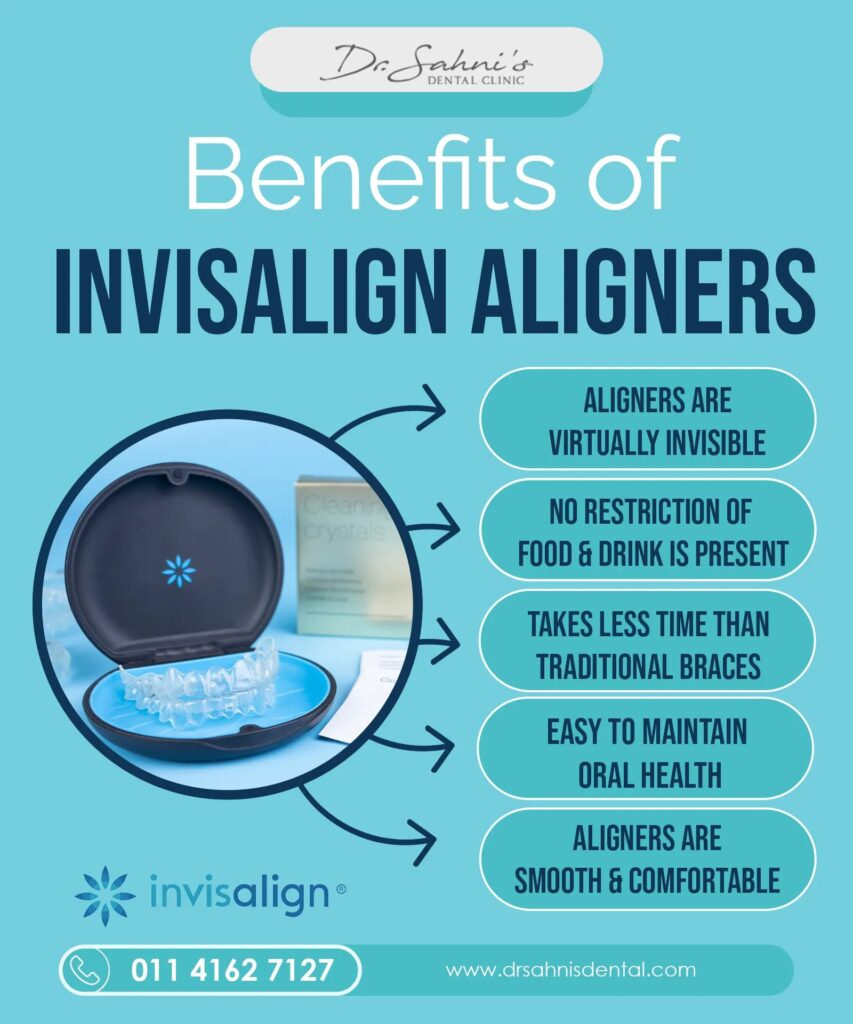 5. Invisalign – the Pros Over Cons
With over 11 million satisfied smiles, Invisalign is surely amongst the best invisible braces in Delhi and elsewhere,  allowing more freedom and more power to carefree smiles and discreet wearing!
Pros:
Removable – made with flexible SmartTrack material , they are extremely easy to remove and wear, unlike braces that are fixed. 
Easier cleaning and better oral hygiene – one can continue to brush and floss in the regular way, thereby cutting down on chair-side scaling time to get rid of plaque accumulation on braces
Lesser pain – the inbuilt technology ensures effective teeth movement which are painless and non-irritating.
Nearly invisible – invisalign is virtually invisible allowing you to flash a confident smile always, as compared to traditional braces avoiding constant hassle of bearing wires and brackets
Reduced clinic visits – Unlike braces, invisalign requires you to visit once in every 6-8 weeks 
Precise timelines – Invisalign assures you a perfect time duration in comparison to braces which allows just a rough estimate during the initiation of the treatment. Clarity about the timeline allows patients to make quick decisions without further delaying their desire for a dream smile.
For all age groups – Starting from kids of 6-10 years, invisalign is an option for adults as well. As it covers  the demand of aesthetics in adults and teens, while treatment is ongoing, invisalign has widened the scope of treatment with aligners for all ages.
Flexibility – patients can remove their aligners according to their calendar schedules and/or other agendas, unlike the fixed conventional braces. 
Cons:
Results might be less accurate in severe complex cases
Relatively higher treatment cost
Technique sensitive
Availability of trusted practitioners
Results are dependent on the patient's wearing time. As they are not fixed, one has to strictly follow the standard advisable protocols.
Probabilities of switching over to conventional braces to attain end results
Take-away
With the best invisible braces in Delhi,  delivered to so many patients, Dr. Sahni's Dental Clinic is an elite Invisalign provider. 
Our team of experienced professionals are dedicated to keep themselves abreast with modern technology while ensuring best standards of patient satisfaction.
Fully equipped with latest products, the clinic adheres to strict sterilisation and disinfection guidelines, to provide state-of-the art facility and the highest value to customer service.