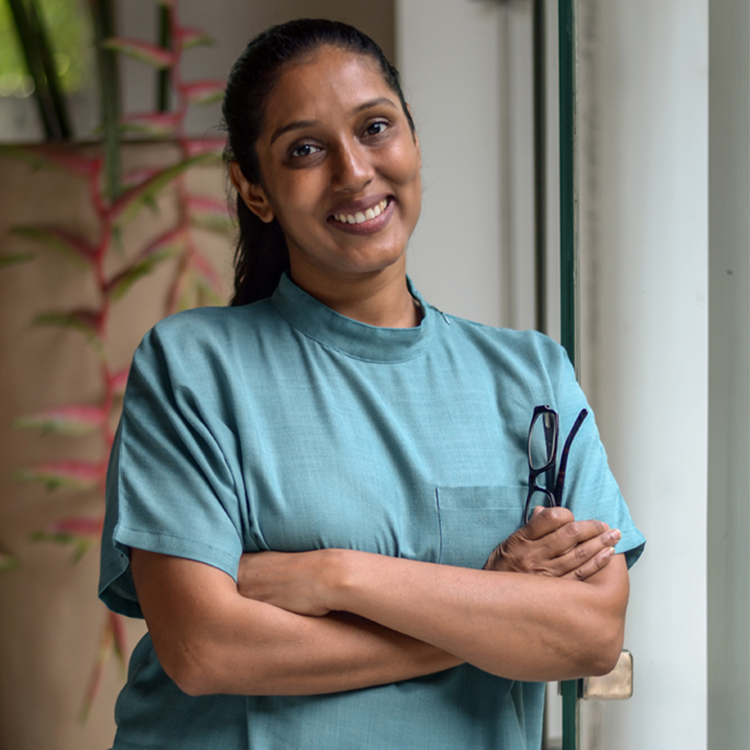 About Dr. Radhika Sahni
Director Dr. Sahni's Dental - Senior Prosthodontist & Implantologist
With distinction in all four years of B.D.S, Dr. Radhika Sahni graduated from V S Dental College and Hospital, Bangalore and pursued residency from the distinguished AIIMS, Delhi. She procured an MDS in Prosthodontics and Maxillofacial Prosthesis with the highest accolades in postgraduate studies from the prestigious King Georges Medical College Lucknow. Being a full-time exclusive Prosthodontist & Implantologist, the wonders of a science of gnathology made Dr. Sahni develop a fervent interest in the artistic world of dental laboratories so as to fulfill the desires of an intelligent prosthetic achiever to satisfy the needs of their patients. She has traveled worldwide and has done a course on the technical aspects of metal free ceramic crowns from Germany.
Certified by the AAID- American Academy of Implant dentistry, in Implantology and advanced implantology procedures, Dr. Radhika continuously attends National and International Conferences and seminars on Implantology, Bone surgery, hard and soft tissue augmentation. The KOL of Dio Implant, Korea; she is one of the first and leading practioners in Digitally navigated Key-hole surgical implant system.
Dr. Radhika is certified advanced trainee in Dental GPS Digital Smile design from USA with Diploma in digital Implantology, Prosthodontics and Smile design from Copenhagen, Denmark. She is an expert in Minimal prep veneers, Esthetic corrections, and Smile designing.
To correct and rehabilitate the complex stomatognathic system is what Dr. Sahni specializes in and is her mainstay. For the growing issues with Sleep apnoea, she is one of the very few dentists in India, who has a fellowship in Orofacial pain and Sleep apnoea from Smile USA in association with Roseman University.
She is now completing her mastership classes with world renowned perio-plastic microscopic surgeons Dr. Otto Zuhr and Dr. Mark Hurzeler, to manage the esthetician's zones in advance implantology and other soft tissue deficits.
With over 20 years of clinical experience, Dr. Radhika Sahni is very knowledgeable, friendly, understanding and truly cares and believes in not only building smiles, but also building relationships!