Want to get the sparkling smile of your dreams? Fix an appointment with a cosmetic dentist for a beautiful, sparkling smile. They are the best to explain why these procedures are needed and give the best smile ever.
Currently, cosmetic dentistry is more popular because most people are looking for options to restore or improve the appearance of their smiles. According to the American Academy of Cosmetic Dentistry, almost 99.7 percent of adults believe a smile is an important social asset.
Table Of Content
Invisible Braces

Porcelain Veneers

Gum Depigmentation

Teeth Whitening

Sahni Clinic Is The Best Cosmetic Dentistry Clinic
When people visit a cosmetic dentist, they'll have one or more choices of dental procedures. Here are some most common cosmetic dentistry treatments mentioned below and why they might be important for the best smile:
#1. DENTAL IMPLANTS
Dental implants are the branch of restorative and cosmetic dentistry, giving the highest level of durability and strength with the appearance of a natural tooth. A lifelong and permanent solution for the replacement of missing teeth. It is an artificial tooth root (titanium screw) surgically fixed into or on the jaw. When an implant is fixed in the jaw, it fuses to the bone, and the process is known as osseointegration. A dental crown is placed on top of the implant and acts as the actual tooth replacement. It is an invasive procedure and requires a recovery time of six-month before the crown placement, and the procedure is finalized.
Cost of dental implant
Average cost is approximately 35, 000 to 50, 000, and the cost also depends on a case-by-case basis. The longevity of dental implants is an added benefit. The dental crown placed on the implant may need to be fixed again after 10 to 15 years.
#2. INVISIBLE BRACES
People who don't want to correct their teeth alignment are full of wire and bracket braces. Here's a most successful and popular orthodontic solution without a mouth full of wire and bracket braces, which is Invisible Braces. There are more than one invisible braces options in the clinic, including clear aligners for Invisalign or clear braces, inside braces (placed on the back of teeth), and ceramic tooth-colored brackets. These options must be evaluated and suggested as the best option by a cosmetic dentist on a case-by-case basis.
Cost of Invisible Braces
The cost of invisible braces varies and depends from case to case, the type of invisible braces case. The cost of Inside braces will be almost similar to traditional braces, but Invisalign and ceramic braces options are slightly more expensive.
#3. PORCELAIN VENEERS
For those who have stubborn intrinsic stains, spacing cracks or chips off, uneven alignment and worn enamel, and teeth whitening is not an option for them, Porcelain Veneers may be the best option. A porcelain veneer is fabricated and placed over a prepared tooth to correct all deformities of teeth.
Porcelain veneers provide an excellent solution for the perfect smile. Veneer application is an invasive procedure that needs the fixed or permanent alteration of the natural teeth.
Cost of Porcelain veneers
Porcelain veneers depend on various factors, though you can spend roughly Rs  15,000 to 20 , OOO Approximately per tooth. Duration of the Porcelain veneers is between 10 to 15 years.
#4. GUM DEPIGMENTATION
Gum depigmentation or gingival pigmentation is black or brown skin splotches that naturally occur on gum tissue and are caused by excess melanin. This gum pigmentation is also called Gingival hyperpigmentation.
These melanin pigments are also found in eyes and hair naturally. It commonly affected people with dark skin. Using particular medications for the long term and smoking can also cause hyperpigmentation on the gingival tissue. Also, it's the result of genetics. 
At SAHNI CLINIC, we always use the latest technology. We also use the laser option to treat these discolored gum splotches in a process called gum-depigmentation. The duration of this procedure normally takes less than an hour, and the results last many years.
Some specialists also treat gum depigmentation with a treatment option called "gum bleaching." But the gum bleaching process does not remove the discoloration caused by "melanocytes" or splotches. It only removes the pigment cells they release, not the melanocytes that produce pigment and cause gum discoloration. Therefore, for the long-term results, laser treatment is far superior.
If you're not satisfied or unhappy with your smile due to the dark color or spot on the gums, fix an appointment today to check how our specialist can help to make the best smile!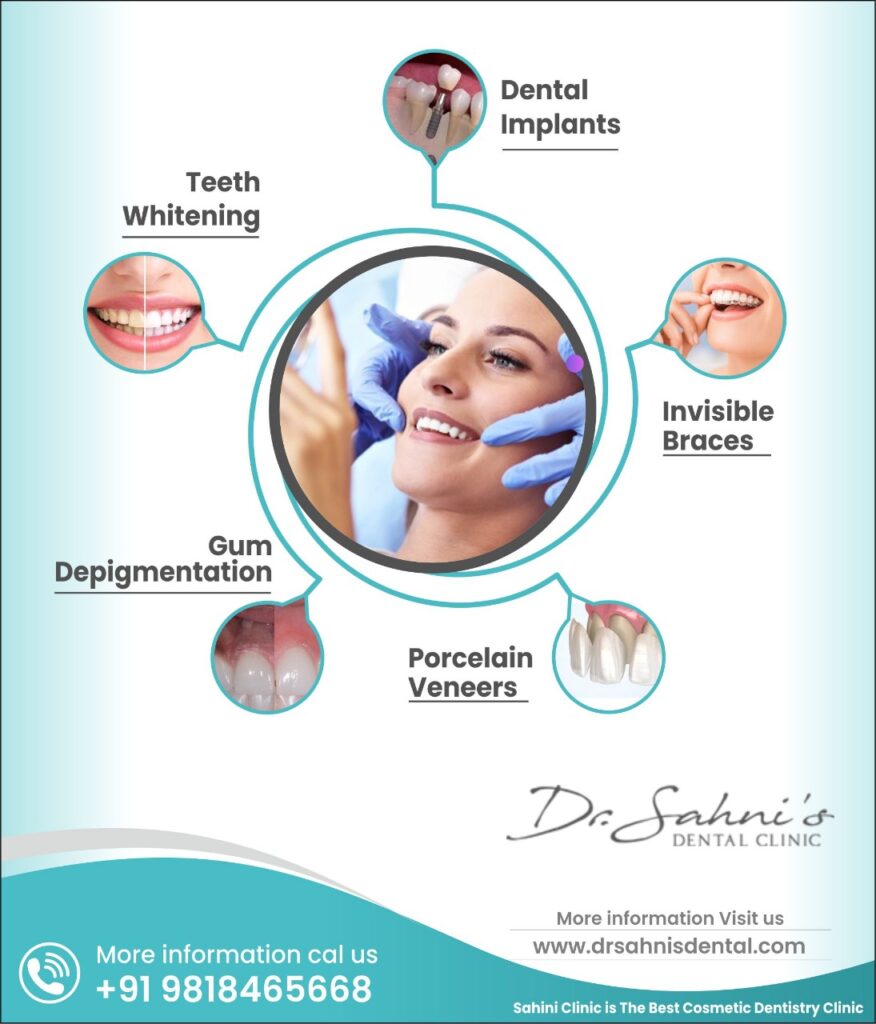 #5. TEETH WHITENING
Teeth Whitening or bleaching is the most popular treatment of cosmetic dentistry. It's an attractive low-cost treatment option for people concerned about improving their smile without getting anything too invasive.
A great option for those who don't require more than a little bit of whitening and brightening and an affordable option too.

The cosmetic dentist will tell you which is the best stain removal option for you.

Teeth whitening procedure can be done 

In office
The best result is shown in-office professional whitening treatment than home whiteners that let patients do it themself at home.
The patient may choose to lighten the color of teeth by two to nine shades, depending on choosing the treatment option.
Results are not permanent and last for several months.
Cost of Teeth Whitening
The cost of whitening treatment varies from brand to brand and treatment to treatment. Average teeth whitening costs approximately Rs.  15000 – Rs. 20000. Other whitening options like strips are less expensive and comparatively less effective.
Make your teeth more white to have an attractive smile. This procedure has multiple options like strips, trays whitening toothpaste, or laser.  
SAHNI CLINIC is the best cosmetic dentistry clinic
If you want a whiter, brighter, attractive smile or want to change your entire appearance with Invisalign and veneers completely – Sahini clinic can help to achieve your goals.
Do you want to smile better? Contact us to know more about our cosmetic dental treatment options and book an appointment for a consultation. Our specialist will tell you which treatment option will fit your needs best!