Are you having difficulty in chewing food? Does it make you feel you feel embarrassed when your dentures slip out while talking? In our routine practise we see many patients complaining us about missing half of their teeth or with weak teeth which are troubling them in chewing food and their aesthetics.
To help such patients to enjoy their food and maintain a healthy life we recommend a 'Single Day Full Mouth Dental Implants Treatment 'followed by prosthetic teeth fixed.
Same day dental implant procedure is a unique and a technique sensitive procedure because temporary but fully-functional teeth can be placed on the same day that you receive dental implants. These temporary teeth remain in place until your implants get fused to the bone.
Once the implants are fused the temporary teeth are replaced by permanent teeth. We are amongst very few dental clinics in Delhi providing this service.
So Am I A Candidate For Teeth In One Day?
Well! The first step is a consultation with our Dental implant Specialist – Dr. Radhika. She will conduct a comprehensive dental exam to evaluate if this procedure is right for you. Then a personalised dental implant treatment plan is developed.
Same Day Dental Implant Procedure
We use in house 3D digital implant simulation and to planand guide us accurately for placing the immediate loading implants.
3D CBCT Scanhelps in determining bone quality and thickness, and also gives the details about the other supporting structures in detail.
The teeth are removed under local anaesthesia with a minimally invasive technique and implants are placed.
A digital impression is then taken to fabricate implant supported prosthesis, and does not usually require a waiting period for the healing to complete.  On the contrary, traditional dental implant methods require a healing period between placing the implant and attaching the crown.
On the same day of your appointment, we can give you implants with fixed temporary teeth and you will be able to smile, talk, and eat with confidence. 'Teeth in One Day procedure' allows you to experience the benefits of fully functional teeth immediately.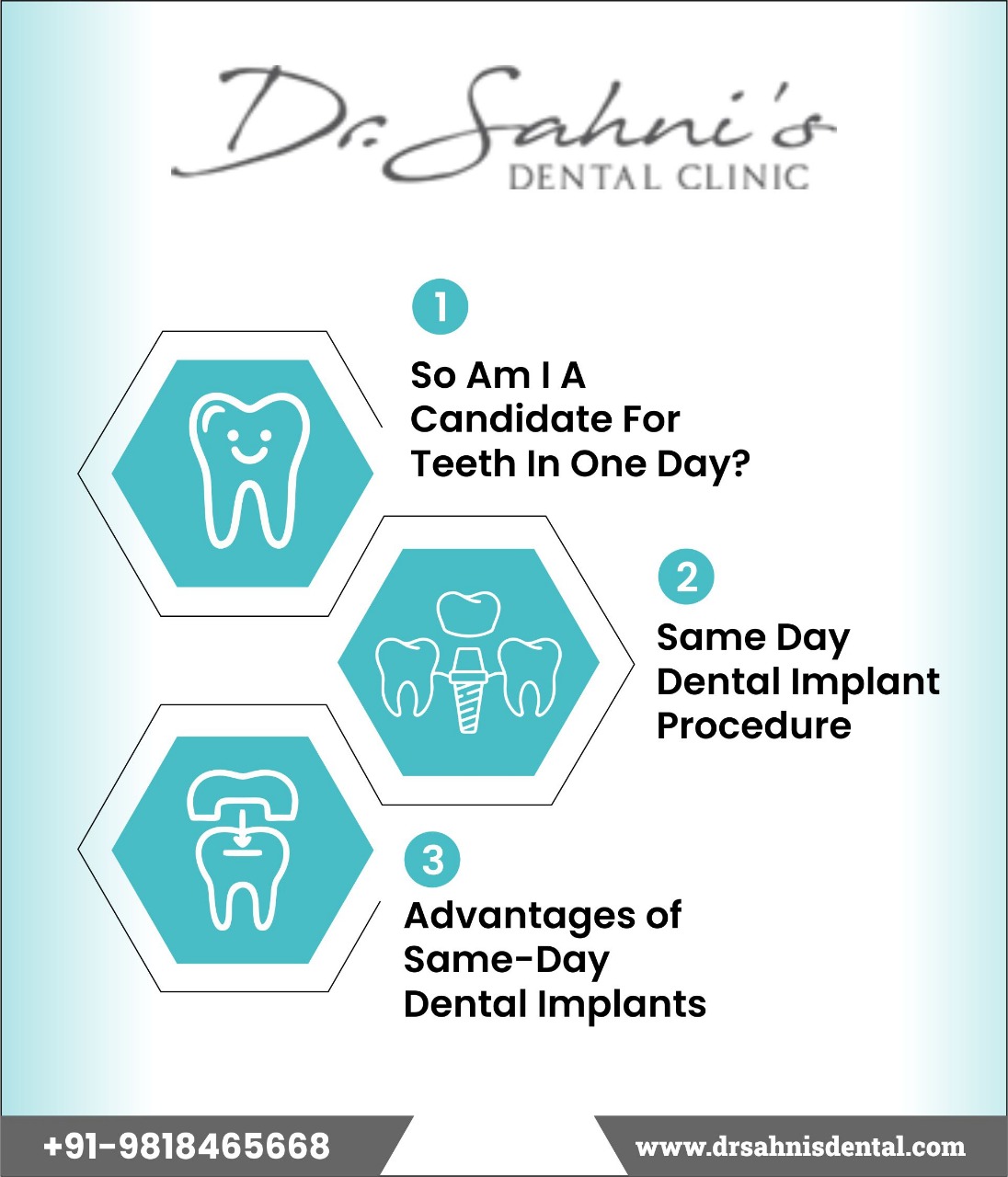 Advantages of Same-Day Dental Implants
The success rate for same-day implants is very high.
Restoration is immediate, and the patient leaves the office with a full mouth of teeth.
The implant fuses to the bone better.
The soft tissues and gums heal more quickly and less likely to recede.
The healing process and recovery is fastened.
It helps to stabilize and maintain the jaw bone, preventing future bone loss.
Want to see an immediate cosmetic and functional dental improvement
So, what are you waiting for, Schedule Your Consultation With our implant specialist to evaluate, if the Tooth in One Day procedure is right option for you.
Feel free to smile your heart out, as confident as ever. We are here to help. To book an appointment with us in, 'Dr Sahni's Dental Clinic '- call us on 011- 41627127,+91-9818465668. You can also mail us on 'drsahniclinic@gmail.com.
We are open to appointments on Sunday.