The COVID-19 pandemic has affected millions of lives as well as professions around the world. There has been a significant rise in the number of people coming in contact with the virus with each passing day. This has put the medical industry under a lot of pressure. Moreover, the pandemic has heavily impacted the majority of the health professions. This has made their role in the prevention and response to the long-term impacts of COVID-19 quite critical.
Table of Contents
Feel free to skip ahead if one topic catches your eye:
Who needs Dental Crown and Bridge treatment?
Is it safe to visit the dentist in COVID-19 Outbreak?
How the Dentist uses best practices to place a dental crown in this pandemic?
Take Away
Who needs Dental Crown and Bridge treatment?
People can lose their teeth due to several causes. This includes tooth decay, gum disease or injury. This is where dental crowns and bridges can be of help. They are used in restorative procedures to get one's teeth back to their natural state.
A dental crown is used when the structure of the tooth is fractured or damaged. On the other hand, a dental bridge is used when one or more teeth are missing.
You require a dental crown and bridge treatment if you:
have a weak, fractured or cracked tooth
have one or more teeth with a filling that needs to be covered and supported
have discoloured teeth
your tooth is misshaped
need to restore a broken tooth
need to hold a dental bridge into place
need to cover a dental implant
want to make a cosmetic modification
Crowns are typically manufactured tooth coverings which are made with porcelain or ceramic, among other advanced materials. These can be manufactured according to the colour and texture of your existing teeth, in a way that it looks natural.
In contrast, dental bridges are prosthetic appliances that are usually made of porcelain which is fused with metal. This way, it remains strong and looks natural.
Is it safe to visit the dentist in COVID-19 Outbreak?
The outbreak of COVID-19 effectively shut down hundreds and thousands of dentists and dental specialists across the country. With the cities now reopening and adjusting to the new normal, there are questions as to how oral healthcare will be provided to people safely. The "New Normal" also describes the new way of living and going about our lives, working and interacting with other people.
With dental care facilities slowly opening up, dental clinics are taking necessary precautions to maintain safety of their patients. Along with wearing PPE kits, they are actively resorting to using teledentistry means to share information and offer consultation. Clinics are sanitised at regular intervals and the body temperature of the patients is measured using forehead thermometer.
As a patient, you can follow the following guidelines to ensure your safety:
Avoid visiting any other place before coming to the dental clinic
Avoid taking the elevator and use stairs instead
Follow social distancing norms
Ensure that you wear mask and gloves
Sanitise your hands frequently
Avoid touching frequent surfaces like door handles
Use digital payment methods
Allow the staff to check your temperature and blood oxygenation level
Sign declaration form if provided by doctor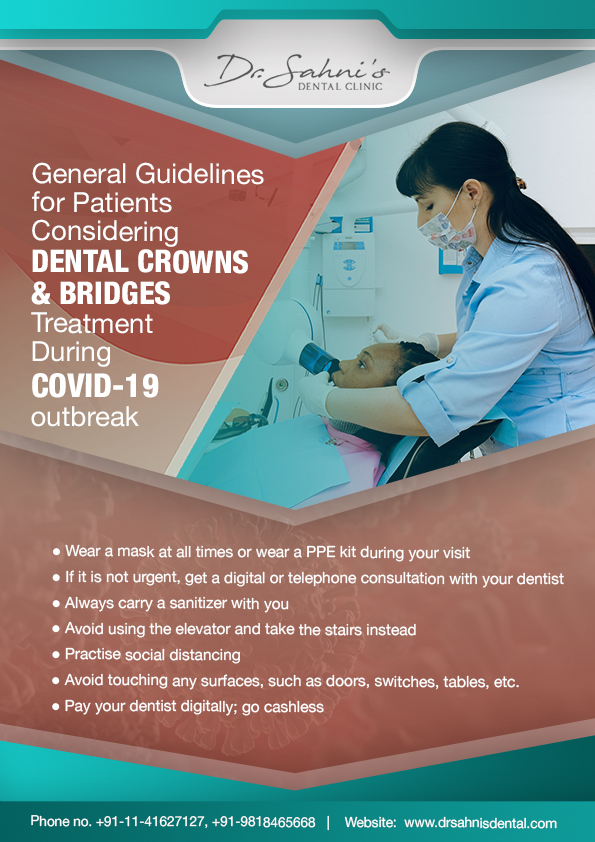 How the Dentist uses best practices to place a dental crown in this pandemic?
With medical advancements, a patient can now get their dental crown treatment done on the same day. Dentists now use the brand new, cutting edge Sirona MC XL machine to mill dental crowns.
The machine, which is a milling and grinding unit, is used in conjunction with the CEREC software. It can manufacture precise, smooth and comfortable dental crowns using ceramic, polymers as well as metal. The Sirona MC XL also provides dentists with a large selection of materials to choose from, depending on their requirements.
It has a high-speed grinding procedure which works with a double 4-axis unit simultaneously. The Sirona MC XL can produce a fully contoured dental crown in less than 10 minutes. Some of the benefits of getting a dental crown by using the Sirona MC XL machine are:
You can get a dental crown made with 100 percent precision
The crowns are made in less than 10 minutes, by fabricating various materials
Precise preparation of very fine fissures with even edges
Possibility of production of screw-retained crowns
Reduced treatment time, which decreases the need for any additional follow-up visits
You can also get a fully contoured zirconia restoration done in a single visit
Possibility of production of different surgical guides for individual patients
At Dr Sahni's Dental Clinic, you will get the best treatment with minimum time and maximum safety. Their use of Sirona MC XL machine ensures a precise treatment with no complications and a reduced recovery time. The advanced technology used in the machine allows crafting your dental crowns and completion of treatment in a single day.
Take Away
During the COVID-19 pandemic, urgent dental needs require a safe and measured approach. The treatment for dental crowns and bridges is performed by keeping the patient's safety on the frontline. With the latest technology and observance of all the safety measures, Dr Sahni is the most trusted dentist to avail dental crown treatment.