Human teeth are prone to damage and decay, which can be controlled only with proper oral hygiene. In the absence of the same, they may require cosmetic dentistry services to restore the natural appearance of their teeth. A dental crown is one such service which involves placing a cap over the affected tooth. It makes the tooth appear natural and reinforces the same dental function. Dental crowns are one of the most common dental procedures which are administered at dental clinics today.
Table of Contents
Feel free to skip ahead if one topic catches your eye:
What is a dental crown?
What are the types of Dental crown?
How is Dental crown placement done?
Take Away
1. What is a dental crown?
A dental crown is like a tooth-shaped cap which is placed over a tooth by a dentist in order to restore its size and shape. A dental crown is cemented at its place to encase the visible portion of the tooth under it.
A dental crown will be needed in case of:
A weak tooth prone to decay
A broken tooth needing restoration
A tooth needing support after filling
Holding a dental bridge at its place
Covering misshapen or discoloured teeth
Covering a dental implant
Modification of a tooth
2. What are the types of Dental crown?
Gold Crowns- These are metal crowns made entirely with gold or an alloy of gold. A gold crown is recommended mainly because it can better withstand the heavy force of chewing and is less likely to break or chip after restoration. Gold crowns cast the least impact on adjoining teeth. However, they can be highly expensive due to the high laboratory charges involved in making the crown. Average cost may lie between INR 44000 to INR 1,85,000.
Stainless Steel Crown- These types of crowns are most likely to be used on the permanent molars or on the teeth on the back. In terms of life expectancy, these are the highest performing type of crowns. The success rate of these crowns is near perfect and they are easy to place over teeth. It would cost you around INR 15,000 to 20,000
All Porcelain Crowns- Porcelain crowns are among the most beautiful dental crowns for your teeth. They are transparent in design and aesthetically appealing. They are least likely to cause an allergic reaction and reduce the level of sensitivity in the teeth after the restoration of the crown. Compared to traditional crowns, porcelain crowns are more expensive. Costs start from INR 58,000 and may peak at INR 2,20,000.
Porcelain Fused-to-Metal Crowns (PFM)- Known as full cast crowns, these are administered by using a crown which has a layer of metal on the underlying side and ceramic on the top. Due to their increased strength and durability, they give a natural look to the teeth at a higher success rate in the long run. In comparison to all-porcelain crowns, these are cheaper. Treatment can start at INR 3,6000 and may go up to INR 1,00,000.
Zirconia Crowns- These types of crowns closely resemble the natural colour and shape of a tooth. They are far more convenient to administer since they do not need a base of metal and can be easily modified and reshaped. The original structure of the tooth need not be disturbed vastly to place the crown in this case. Costs are broadly similar to porcelain crowns.
E Max Lithium Disilicate Crowns- This is the newest type of dental crown which is an all-ceramic crown crafted with lithium disilicate since it is light and thin. Aesthetically, these crowns appear very pleasing and are convenient for your mouth. Also, they can be used both, on your front as well as back teeth and remain durable in the long run. They may cost between INR 50,000 to INR 2,20,000.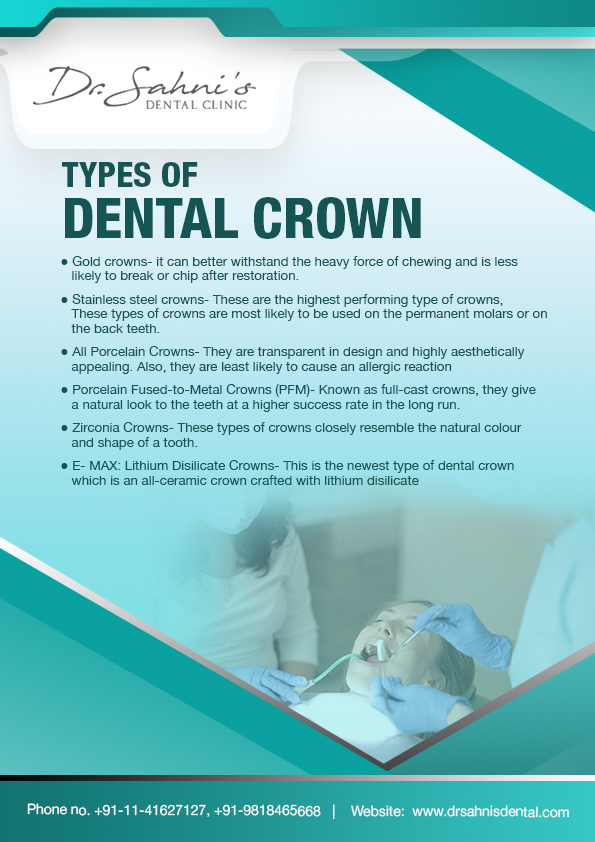 3. How is Dental crown placement done?
When you need to get your broken or damaged tooth fixed, your dentist will take X rays of your teeth and the jawbone to check for signs of decay.
After ascertaining the health of the tooth, it is shaped to make room for the crown which will be mounted over it. The extent of this shaping depends on the type of crown and the severity of the damage to the tooth. Thereafter, impressions of the tooth will be taken to build the matching crown, which will be crafted with the assistance of superior technology in a full-fledged lab.
After assessing the fabrication of the crown, it will be fixed over the affected tooth using special dental cement. With a final check, any dental imperfections in the tooth will be removed to achieve a satisfying result.
At Dr Sahni's Dental clinic, the new Sirona MC XL machine can get your dental crowns fixed in a fast and reliable manner by crafting the dental crowns in a single day. For the best outcome, the machine provides precise results which bring down the treatment time and allow making full-contour restorations.
Take Away
Dental crowns are available in a variety of materials and the choice of a particular option depends on the features which it can offer. Based on your dental condition, you may be recommended a certain type of dental crown by your dentist. If you are looking for an affordable treatment for dental crowns, visit Dr Sahni's dental clinic today to avail a reasonable and efficient treatment for dental crowns in a safe and reliable manner.