COVID-19 had a massive impact on global healthcare systems, including the oral health and dental industry. Today, the world is trying to get back on its foot with vaccination drives and dental clinics are now following the highest standards of sanitisation, hygiene, patient care, and procedure support.
1. What is Orthodontics?
What is orthodontics? Orthodontics is the branch of dentistry that addresses the guidance, diagnosis, prevention, interception, and correction of dental irregularities or bad bites, including the use of dental braces.
What is orthodontics in dentistry? Orthodontic treatment may be cosmetic to enhance the appearance of an individual but is also aimed at improving oral function. During the Orthodontic treatment, the orthodontist may close wide gaps between the teeth, straighten crooked teeth, align the tips of the teeth, improve chewing or speech ability, treat an improper bite, prevent long-term excessive trauma of the teeth, or boost the health of teeth and gums in the long run.
2. Purpose of Orthodontics :-
What are orthodontics services? The primary indications for orthodontic treatment are to improve aesthetics, general dental health, and oral function. The objectives of orthodontic treatment through braces and Invisalign are:
To encourage the eruption and alignment of impacted or displaced teeth
To eliminate functional complications that may predispose an individual to Temporomandibular disorders (TMD)
To correct the overbite and overjet for establishing a mutually protected occlusion
To enhance dental and facial aesthetics by teeth alignment and levelling
To remove trauma from the displaced teeth and/or occlusion
To treat overbite, underbite, crossbite, open bite, spacing, misplaced midline, and crowding
Improves Your Oral Health :-
Orthodontic treatment options such as braces can be used to straighten misaligned teeth that contribute to healthy teeth and gums as it is easy to clean, floss, and brush straight teeth. Moreover, they help you to stay protected against cavities and periodontal disease.
Facilitates Cosmetic Correction :-
Orthodontics improves the functioning and appearance of the teeth to improve the oral health of gums, jaw joints, and teeth in the long run.
Provides a Healthy Functional Bite :-
Orthodontic procedures can be availed to correct crowded teeth, open bite, deep overbite, crossbite, increased overjet, spacing, and reverse overjet.
Prevents Gum Diseases and Tooth Decay :-
Orthodontic solutions can help in preventing gum diseases and tooth decay by aligning the teeth so that they are easy to maintain and clean.
Improves Comfort :-
Wearing Orthodontic solutions can improve the wellbeing and comfort of an individual. When someone has misaligned teeth, they are more likely to bite their gums, tongue and the inside of the cheeks as the jaws don't sit together correctly. Orthodontic solutions help in relieving oral pain and discomfort while speaking, smiling and eating.
3. Braces and Invisalign
There are many types of dental braces that can improve teeth alignment including lingual braces, self-ligating braces, ceramic braces, traditional braces and Invisalign braces.
Traditional Metal Braces :-
Traditional braces involve wires and brackets that are generally made of metal. The wires and brackets are attached to the teeth and facilitate alteration of their positioning as required. Traditional Metal Braces are an effective and generally the least expensive option.
Ceramic Braces :-
Ceramic Braces are quite alike to traditional metal braces in shape and size. They are made of a ceramic material that seamlessly blends into teeth's natural colour so it is difficult to notice them. Ceramic Braces are more popular than traditional metal braces because of their colour and are just as effective as traditional metal braces.
Lingual Braces :-
Lingual Braces are made of metal but they are attached to teeth's inner region so they aren't visible from the outside. The biggest advantage of Lingual braces is that they help individuals achieve a confident smile without feeling self-conscious. Moreover, they don't interfere with the movement of lips.
Invisalign :-
Invisalign utilises a variety of clear plastic aligners that are customised to meet the specific needs of an individual. These aligners can be easily removed and replaced throughout the dental treatment period. The majority of individuals require around 18-30 different aligners to attain the desired result. One of the biggest advantages of Invisalign is that they are almost invisible and allow individuals to drink and eat anything.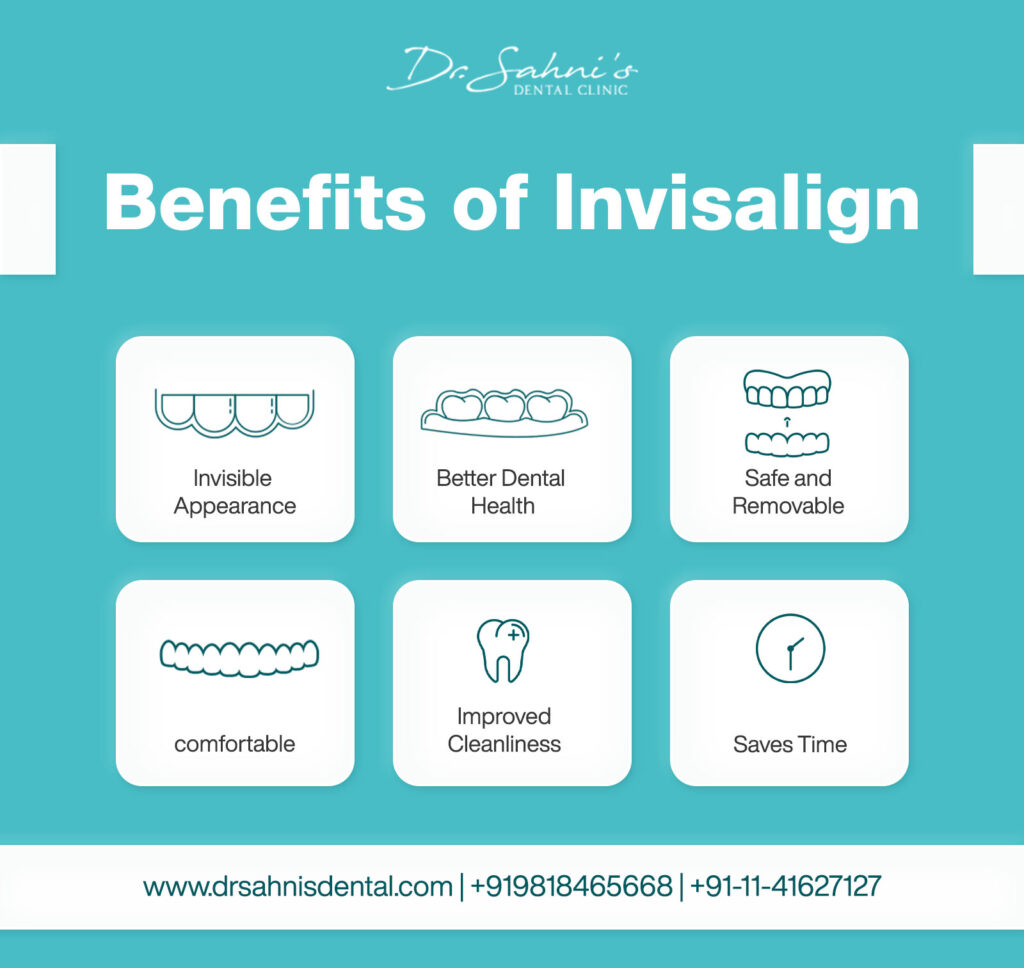 Self-Ligating Braces :-
They are quite similar in appearance to traditional metal braces but involve clips instead of elastic bands for holding the brace wire in place. This results in less friction on the dental braces. Self-Ligating braces facilitate more precise tooth alignment and are easy to clean and maintain.
In most cases, the average wear of dental braces is approximately 12-24 months and results may depend on different factors such as misalignment severity, bone density, age, etc.
Takeaway
At Dr. Sahni's Dental Clinic, we change lives with beautiful smiles by improving the oral health of our patients. If you want to learn more about the cost of braces and Invisalign or other orthodontic treatment options, please feel free to schedule the initial consultation or contact us today.