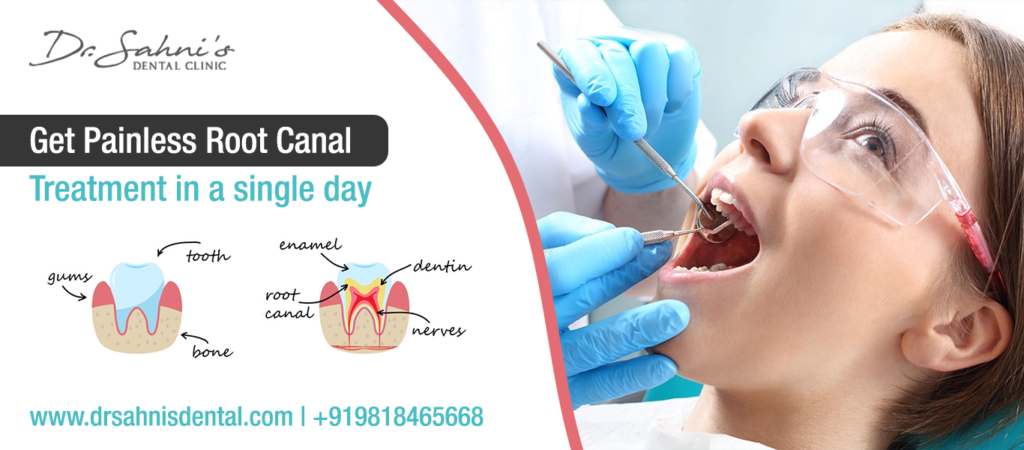 Damage and decay at the roots of a tooth can become a matter of serious concern. It should be addressed by a qualified professional dentist at the earliest to recommend a painless treatment option. A root canal is one of the most convenient treatment options available, which can be completed within a single sitting using modern technology at Dr. Sahni's Dental clinic. Find out complete details of this advanced treatment option available at one of the leading dental clinics in India.
Table of contents
Patients think RCT is painful, At Dr. Sahni's Dental Clinic, It is done with modern equipment and technology for your better experience.
1. What is a Root Canal?
2. What is Single Sitting Root Canal Treatment? How is it done?
3. Signs: You need a Root Canal
4. What Happens If You Need a Root Canal But Don't Get One?
5. Do Root Canals Cause Health Problems? Is this treatment painful?
6. What is the cost of the treatment? Is it worth it?
Take Away
1. What Is a Root Canal?
Root canal is a treatment used to repair and save a tooth that is badly decayed or infected. It is possible for the nerve tissue within a tooth to break down. This leads to the multiplication of bacteria in the root chamber. The decaying debris can then result in infection which leads to the formation of pus in the pockets surrounding the dental roots.
It is necessary to get a root canal treatment else the tissue around the tooth might get infected and continue to decay. Later, these problems can surmount to become bigger dental issues. More than 50% of Indians are suffering from a major dental issue, root canal tops the chart among dental treatments recommended to them.
2. Can Root Canal Be Performed in a single sitting?
A root canal can be performed in a single sitting by cleaning the affected site thoroughly and removing the infected tissue. Subsequently, the canals are filled with a permanent material and sealed with a durable filling. If required, a post may also be inserted to provide additional support. Subsequently, a crown is affixed to mimic a natural tooth structure.
At Dr. Sahni's clinic, the latest equipment and technology are used to carry out the treatment procedures. Thus, it reduces the sittings to a mere 1 or 2 so that you do not feel any discomfort while availing the treatment and find it convenient during the present time of COVID–19.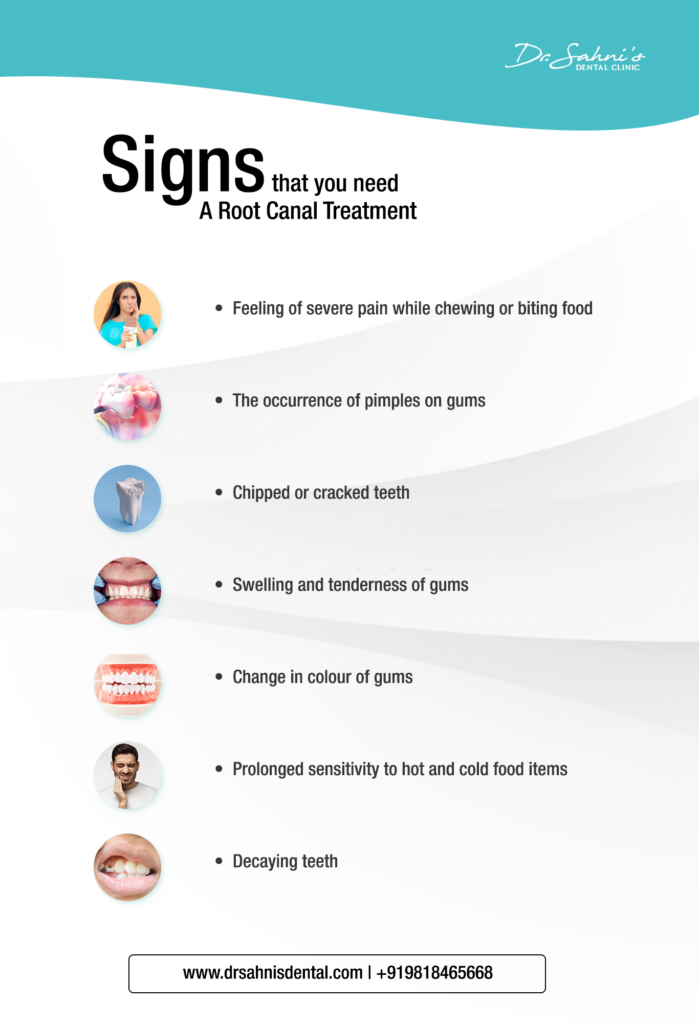 3. Signs that you need root canal treatment
Here are a few warning signs which can signal that you require a root canal treatment:
Feeling of severe pain while chewing or biting food
The occurrence of pimples on gums
Chipped or cracked teeth
Swelling and tenderness of gums
Change in colour of gums
Prolonged sensitivity to hot and cold food items
Decaying teeth
4. Consequences of delaying root canal treatment
If your teeth indeed require a root canal and you still choose to leave them untreated, you run a high risk of damaging your teeth further. It is highly possible that the infection in the teeth might spread to other parts of the body.
Fear and anxiety can keep you from taking treatment but at Dr. Sahni's, there is no need for you to worry since his professional expertise allows him to offer the best services under hygienic and safe conditions, especially during this pandemic.
5. Do root canals cause any health problems? Is the treatment painful?
Contrary to doubts, a root canal allows your teeth to function normally and eliminates pain. However, if done incorrectly, the treatment can result in increased bouts of pain and sensitivity. Always reach out to an experienced specialist for treatment since they perform the endodontic treatment with modern techniques and sophisticated technology.
Most patients report a feeling of comfort while undergoing treatment. Your dentist may recommend necessary prescription medicines to get rid of slight pain, which could result in cases with severe infections.
To make the treatment comfortable for you, the ideal specialist explains each step of the procedure and carries out their work with the utmost care and professionalism.
6. What is the cost of root canal treatment? Is it worth it?
The cost of the treatment will depend on the severity of the infection and the affected teeth where the procedure has to be carried out. For example, molars are typically more difficult to treat, so their cost is usually high. Even then, the treatment cost comes out to be far less than the cost of extracting a tooth altogether. Depending on the position of the tooth and the severity of the infection, treatment cost can vary between INR 6000 to INR 8000.
Give us a visit at our clinic and allow us the chance to examine your teeth so that we can give you a complete estimate of the costs and treatment timeline. Maximum cases of root canal treatment last for a minimum span of 8 to 10 years, depending on their maintenance and care.
Take Away
It is always preferable to save your natural teeth, once they have undergone damage of any sort. This is important since they help you consume a variety of foods. The only good alternative to root canals is tooth extraction which will then require replacement with additional treatments. As a result, the root canal comes out to be a more economic dental solution for infected and damaged teeth.