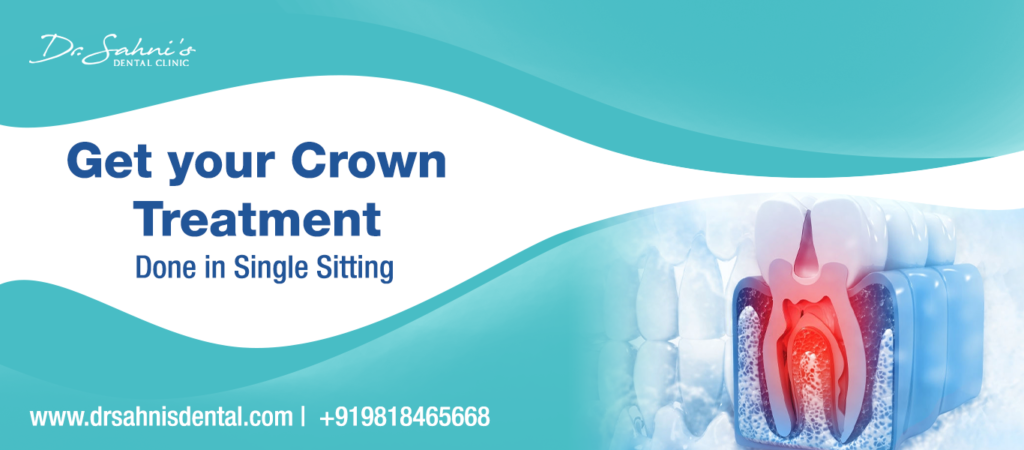 The procedure of dental crowning treatment has various advantages and is affordable for all. It is not uncommon for individuals to be wearing a dental crown in general. In India, the market for dental crowns is on a steep rise, owing to growing awareness among people regarding dental health. 
Table of Content
1. What is Dental Crown?
2. Types of Dental Crown
3. When do you need a Dental Crown?
4. What are single sitting Dental Crowns and how does it work?
5. What are the benefits of Same-Day Crowns?
6. How long do Dental Crowns last and what are alternatives to dental crowns?
7. What are the possible complications of having a crown?
Take Away
Dr. Sahni Dental Clinic is here to provide you with the reliable process of Dental Crowns within a single sitting to help retain your beautiful smile.
1. What is Dental Crown?
A cap-like covering that completely obscures the tooth from all sides, protects the tooth as well as improves upon it, is a Dental Crown. It protects the teeth from the irritants in the mouth like bacteria, saliva, acids, and food particles. All these are responsible for causing issues and the complete coverage of a crown prevents these from reaching the teeth. Dr Sahni's Dental clinic provides various procedure options and advises complete care for the crowns due to which they can last from five to fifteen years.
2. Types of Dental Crown
There are two types of Dental Crowns, Temporary and Permanent crowns. Temporary crowns are set only till the permanent crowns are ready for installation in the pre-shaved teeth. Permanent crowns are made of various types such as porcelain, ceramic, zirconia, metal, composite resin, and even a combination of metals. Dr Sahni's dental clinic has the provision of 3D scanner and laser printers for excellent esthetic results. While choosing a material, you will be able to gather the pros and cons of each by talking to a consultant in the clinic.
3. When do you need a Dental Crown?
There are several reasons why someone would need a dental crown.
To protect weak teeth that might be in a need of support
In case of a broken tooth
After having root canal to restore strength in the weakened tooth
To cover up a badly shaped tooth
For holding a dental bridge
To improve the overall appearance and add to the finish
4. What are single sitting dental crowns and how does it work?
Single sitting dental crowns or same-day dental crowns is the process where only one appointment with your doctor would suffice and the treatment will be complete. In this process, Dr. Sahni's Dental Clinic uses the sophisticated Sirona MC XL machine to take the exact measurements of your tooth with 3D designing and generate an accurate crown. They offer the latest technology to make it happen like the SDC machine. This helps you complete your treatment in one day and save time and money. During the Covid-19 situation, Dr Sahni's Dental clinic has been taking optimum measures for complete hygiene and you can trust that your treatment would complete with all precautions.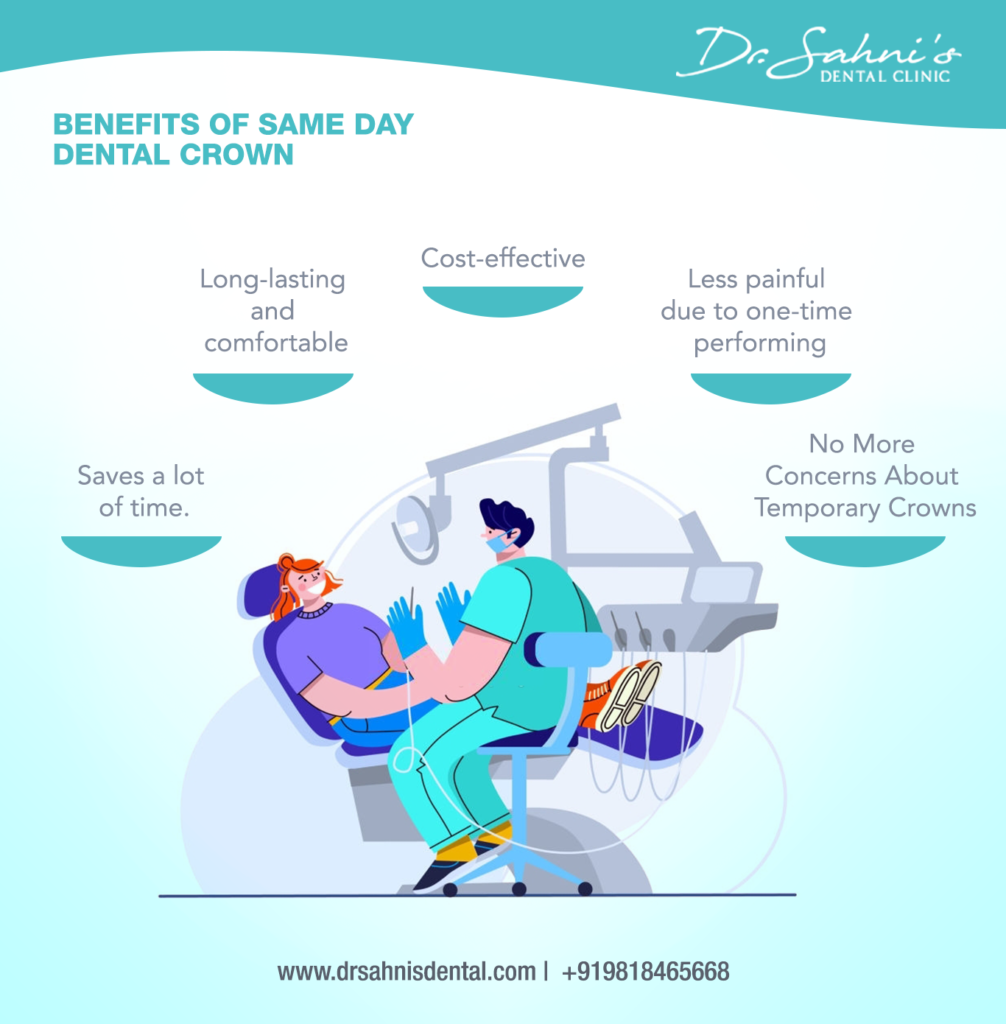 5. What are the benefits of the same-day crowns?
This same-day crown treatment saves a lot of time.
Same-day crowns are long-lasting and comfortable due to precise and fresh results straight from the live measurements of the patient.
Since the number of appointments is less, the cost automatically goes down.
This procedure is less painful due to one-time performing.
6. How long do dental crowns last and what are alternatives to dental crowns?
Typically, a same-day dental crown lasts from five to fifteen years completely depending upon the care taken and precautions followed. The wear and tear of a crown decide the life span of it. In case you are searching for alternatives to dental crown process, we have onlay and ¾ crowns (partial tooth coverage as opposed to the dental crown), veneer placement (constant iterations for tooth placement corrections till the setting fits), filling (mostly in case of small cavities as it is not successful in big cases), temporizing the tooth, and tooth extraction. At Dr Sahni's dental clinic, the professionals would help you to select the most appropriate alternative for you.
7. What are the possible complications of having a crown?
There might be some minor complications in the case of dental crown installation in some people. In some cases, a patient might develop an allergic reaction due to a reaction to the material of the crown. It can also cause bacterial infection. It is easily curable as the crown is repairable within the mouth itself. Furthermore, a crown may get loose, or fall off. In any case, this is nothing serious and can be easily altered with one visit to Dr. Sahni's dental clinic.
Take Away
Dental Crown Implantation treatments are quite common. To date, this procedure has been preferred by many mostly for cosmetic purposes. With the consultation of a practised dentist like Dr Sahni, you can be sure that all will be well. The advanced and latest technology has enabled the procedures to just be possible within a day. The treatment is designed to offer complete satisfaction at maximum comfort.