Decay and damage may render your teeth incapable to function in totality. Even slight discomfort while chewing food or speaking may become a cause of discomfort in routine. Cosmetic dental treatments may be the only option to recover under such circumstances. Dental crowns are a qualified way to protect a weak tooth from further damage or improve the appearance of a stained tooth. What remains to be decided is the type of dental crown for your teeth.
Table of Contents
Feel free to skip ahead if one topic catches your eye:
Why is it important to choose the right dental crown for your concern?
Things to keep in mind while choosing a crown Material
How long will it take?
How to take care of your teeth after dental crown placement?
1. Why is it important to choose the right Dental Crown for your Concern?
Dental crowns provide a wholesome treatment to weak and damaged teeth, which are incapable to function wholly on their own. They form a protective covering around discoloured, damaged, or decaying teeth, which protects them from further impairment. For cosmetic purposes, a dental crown provides camouflage for stained and broken teeth.
Dental crowns are available in a variety of options, making it imperative to choose the right one for your teeth. Each type of dental crown is suitable for a certain type of teeth and recommended only under specific conditions.
You will require a dental crown if you have one or more of the following:
A damaged or cracked tooth
A cavity in the tooth (large enough to need a filler)
Require a Cosmetic Improvement
Decayed Tooth
After Root Canal or another Dental Implant
Fractured fillings between teeth
Due to the suitability of a different crown in each case, you will need to consult a dentist who can guide you. It is important to choose the right dental crown for your teeth so that it helps your teeth function better.
2. Things to Keep in Mind While Choosing a Crown Material
Dental crowns are available in types of gold, stainless steel, porcelain (ceramic), and metal, among other advanced options. To select the right crown for your teeth, you should begin with a consultation with your dentist. Allow them to examine your teeth and assess their condition which may require one or the other type of crown.
The following factors may additionally impact your choice of a dental crown:
Durability- A better quality crown will last longer but will also cost more. So, an E Max crown may last longer than a basic metal option. 
Cost- Each type of crown costs different and may be associated with a longer lifespan. As a patient, you may discuss the cost with your dentist. 
Safety- Some materials are safer for long term use than others. So, if you are someone who clenches their teeth often, a porcelain fused crown may wear down easily for you. 
Appearance- Depending on the material, crowns may appear natural like the surface of a tooth itself or distinct due to the material used to make them. 
Placement of Tooth- Certain dental crowns are suitable only for specific teeth. Modern crowns like E Max can be used on front and back teeth while others can be used only on front teeth.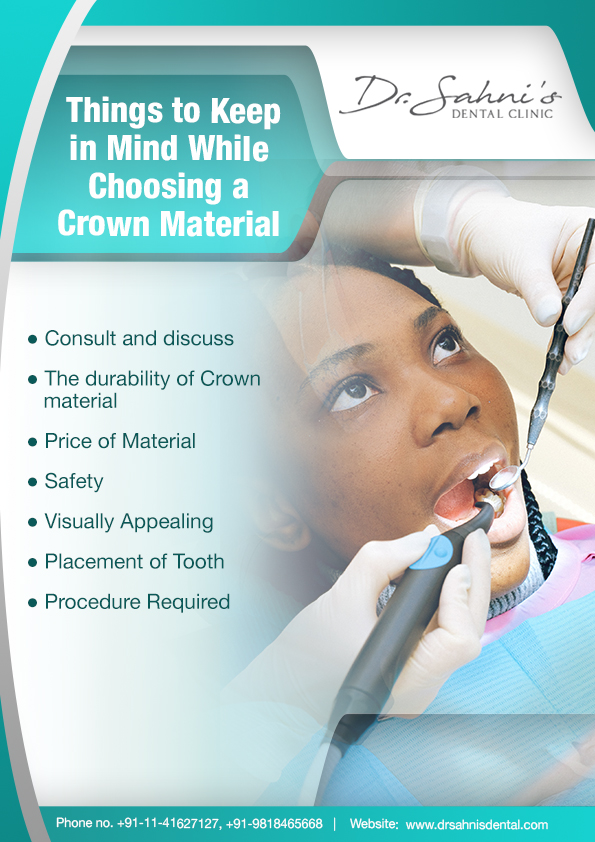 3. How long will this Take?
To start the treatment, the choice of a dental crown will be made in consultation with the dentist. Once a specific type of dental crown is selected, you will need to attend a sitting with your dentist where your teeth will be inspected for their existing condition and scope of improvement.
Where it is possible, your dentist may offer a same-day crown treatment.
At Dr Sahni's Dental Clinic, Sirona MS XL machine is used to make a crown with 100% precision, which allows completion of the treatment in a single day. It minimises the number of sittings which a patient needs to avail complete treatment for dental crowns. Milling and grinding of your crown can take place in a laboratory setting at the same time for quick and efficient results.
4. How to Take Care of your Teeth after Dental Crown Treatment?
A dental crown is a cosmetic treatment which remains durable only as long as proper dental hygiene is observed. To make your treatment lasting and durable, follow these guidelines on a routine basis:
Avoid foods with sticky and hard texture
Always wash your teeth after taking meals
Ensure brushing of teeth twice in a day
Practice tooth flossing daily
Avoid grinding teeth against each other
Meet your dentist at regular intervals for a check-up
Take Away
Dental crowns are a reliable cosmetic treatment which can significantly alter the appearance of your teeth. They are one of the most convenient restorative dental procedures, which can be administered smoothly by your dentist. If you choose the right dental crown for your teeth, it will remain more durable and suitable for your teeth. Explore safe and sound treatment for dental crowns at Dr Sahni's dental clinic where you can avail reliable consultation and affordable treatment.