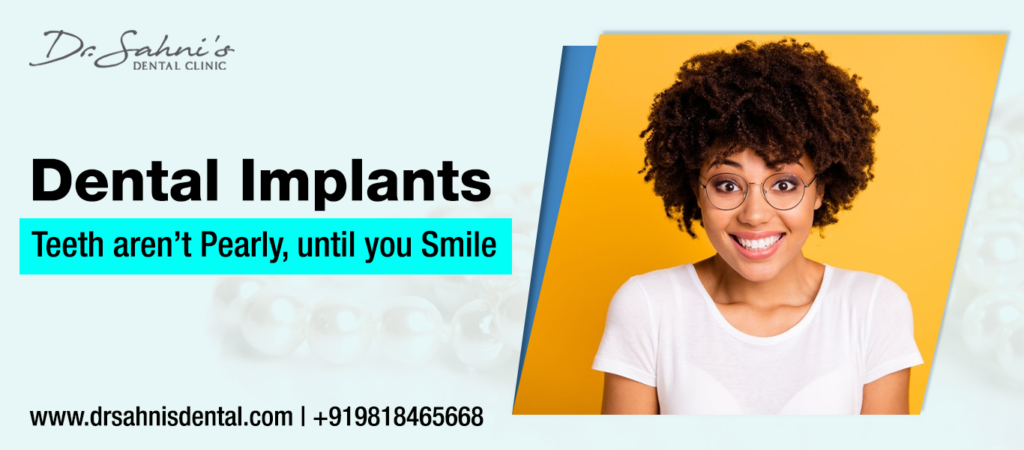 A dental implant is a typical surgical process which is often recommended to patients who need a replacement for their tooth. The dental procedure is a welcome respite for patients who do not want to opt for bridges and want a durable dental treatment for their teeth. The current trend of dental implants treatment has a Compound Annual Growth Rate of 30%-35%, which is indicative of the uprise in the preference for this treatment.

Table of Contents
What are Dental Implants?
Why Dental Implants?
What are the advantages of dental implants?
Can one get dental Implants in a day?
How is it done in a day?
How long does it last?
Take Away
Dr. Sahni Dental Clinic makes dental Implants easy for you and provides you with the best services and medication to better your oral health.
What are Dental Implants?
A dental implant is analogous to a root post, which must be positioned after a surgical procedure. It serves as the foundation to stage a replacement tooth after it has been fixed below the gums and in the jawbone. Over a span of six months, implant bonds together with the bone and gum area of your jaw so that over time, it may become sturdy enough to support and anchor an artificial tooth over it. At Dr. Sahni's Dental clinic, you can undertake treatment for a single tooth implant, multiple tooth implants, all on four implants and 3D computer-guided implant surgery. Depending on the type of treatment, the average cost of treatment can come out to be up to be between INR 35000 and INR 45000.

Why Dental Implants?
Dental implants are an effective treatment strategy for anyone with missing or cracked teeth or problems with dentures. A dental implant is also an option for those who do not wish to opt for dentures and have existing problems with bone loss. It is common for fear and anxiety to hold you back from taking timely treatment. But that would only increase the scope of problems to your jaw bone, the position of teeth and tongue bites, which can induce graver outcomes. At Dr. Sahni's dental clinic, you can avail professional dental implant treatment at reasonable costs and timely consultation with the specialists.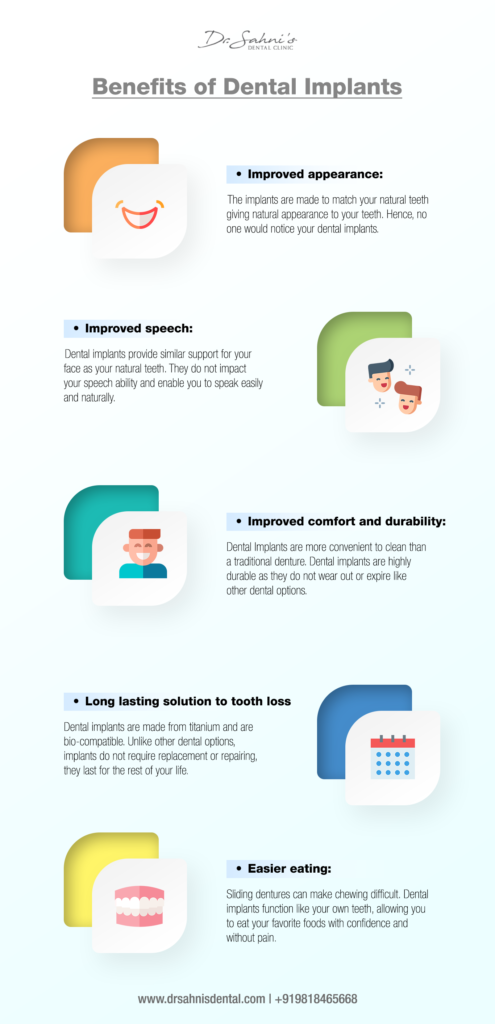 Advantages of Dental Implants
Matches the natural shade of your teeth, which makes them appear natural, dental implants can be customized.
Available in a variety of shapes and sizes for a perfect fit.
Titanium post allows adequate force with every bite.
Does not allow the formation of cavities since the implant material does not decay.
Promotes ease of speaking, eating and following a normal lifestyle, without worrying about accidental slippage.
After filling a gap, implants support the teeth adjacent to them by preventing their movement.
Is it possible to get Dental Implants in a day?
At Dr. Sahni's dental clinic, you can avail treatment for dental implants with a revolutionary technology that gives back your smile at your comfort and convenience. Sophisticated 3D CT scan technology is used in conjunction with virtual planning software, which maps out the parameters of your teeth. Between a consultation and the final procedure, the restoration tooth is fabricated as per the arrangements requested by the patient. Ultimately, on the day of the treatment, Dr. Sahni ensures that the implants are inserted with precision and you leave the clinic with a beautiful smile of satisfaction.
The main distinction between single day implants and traditional implants lies in the time frame during which the treatment culminates. For this reason, single day implants are cheaper in cost as compared to their traditional counterpart.
Getting Implants in a Single Day
The process begins with a consultation session, where you will get to meet Dr. Sahni and our team of specialists, who will be assisting in the treatment. At this stage, we will establish your expectations with the treatment. At the same time, we will offer suggestions on what is best for your situation.
After obtaining digital scans of your jaw and teeth, a treatment plan will be laid out. Once the augmentation procedures are complete, you will undergo sedation for the extraction of tooth and implant placement.
Restorations undergo customization to fit your implant in the next few hours. And you can get them fitted over the implant as soon as you feel comfortable enough. This will set your smile permanently and you will have no artificial feeling in your mouth whatsoever.
Compared to traditional dental implants, there are ample benefits of single day implants. You need a single surgery to get it done! And most importantly, there is no lag between the extraction of your tooth and placement of a restoration. In times of a pandemic such as these, it is most comfortable to opt for this option, rather than visiting a dental clinic multiple times.
How long do dental implants last?
With the right care, dental implants can last more than 25 years. This is quite relevant given that the treatment happens to be a permanent dental function.
Before administering the treatment, Dr. Sahni Dental Clinic will carry out a comprehensive examination of your teeth. Plus they will review your medical history and devise a likeable treatment plan.
To make the treatment successful, it is advisable that you practice good oral hygiene habits. It is important to avoid damaging habits that could result in the failure of the treatment. This includes chewing on hard items and consuming products that stain your teeth.
Take Away
Dental implant treatments are among the most successful procedures, with durable results. With the right care and consultation with a practiced professional such as Dr. Sahni, you can take the treatment with confidence. The advancement in treatment methods has made it possible to plan a customized treatment. It easily fits your specific situation so that you get satisfactory results.