About Dental Tourism
Travel Spirit International (TSI), which is recognized by the Ministry of Tourism, Govt. of India and is an IATA accredited Travel agent. It's operations encompass a wide variety of exclusive tours and packages ranging from traditional, cultural, heritage, adventure, wildlife and a lot more not only in India, but also in the neighboring countries like Nepal, Bhutan, Tibet, Bangladesh, Sri Lanka and the Maldives.
People Behind TSI's Success
A travel enthusiast himself, Mr. Jatinder Taneja is the Managing Director and moving force behind Travel Spirit International. A Post Graduate, gifted with strong business acumen, he has continued to keep miles ahead of the competition by emphasizing on well planned, focused business strategy and by offering value added services to the customers.
The Team That Excels
No operation, however well planned, can be successful without the efficient human touch. TSI is fortunate to have some of the most talented and committed professionals in the field with an average experience of more than 15 years. Presence of multi-lingual staff is another added advantage.

Tourism Awards
Prestigious National Awards are a testimony to our growing expertise and commitments to the field of travel and tourism. TSI has been the recipient of numerous awards from the Ministry of Tourism Govt. of India, M P Tourism, Hospitality India & Explore the World and By IATO etc. We feel further inspired and encouraged to aim for even higher levels of excellence.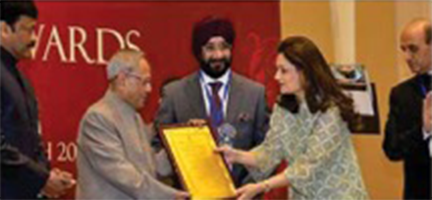 Our Outbound Division
TSI's full – fledged outbound division has well-experienced and dedicated staff who offers carefully designed worldwide outbound tour packages.
An August Company
TSI is proud to be a recognized by prestigious national and international tourism bodies like IATO, TAAI, PATA, ADTOI, OTOAI and FIEO etc.
A Fleet of Deluxe Coaches and Cars
An in-house transport department manages a fleet of deluxe cars and coaches of various sizes cater to groups and Individual tourist requirements with a reliable backup support. Our uniformed & well groomed chauffeurs with through knowledge of Indian roads have English speaking & comprehension skills which is an added advantage.